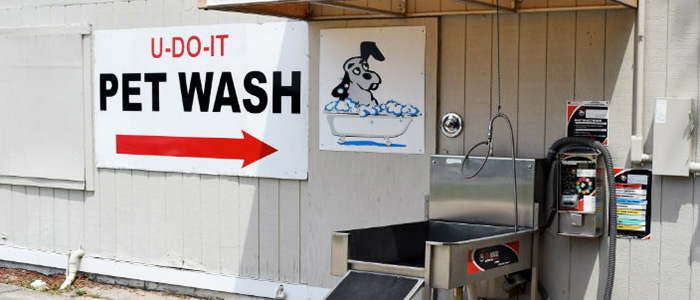 24 Hour Laundry Zone
in Yulee features a pet wash station available 24 hours, 7 days a week, all year round.
Self Service Dog Wash Station
Our do-it-yourself dog wash station is available for use at your own leisure. Many pet owners prefer washing their animals outside to keep the hair from clogging their drains. With our self-service dog wash, you can bathe your dog quickly and easily.
Where is the Pet Wash?
You'll find the dog wash located outside of our 24 hour laundromat in Yulee in front of the building with ample drive-up parking.
Do I Need to Bring My Own Pet Soap?
You are welcome to bring your own soap to use in our self-service dog wash, but it is not necessary. There are different high quality, veterinary-approved soaps and conditioners available to choose from at the station, which are automatically dispensed from the pet wash at no extra cost:
Oatmeal Shampoo
Doggy Shampoo
Flea & Tick Treatment
Conditioner
Skunk Odor Remover
We have attached a blow dryer, as well, so your dog will be nice and dry before getting back in the car!
Is There a Weight Limit?
It is safe to place any dog on the pet wash that can walk up the ramp. The waist-high sink is designed to hold both small and large breeds.
How do I Pay For The Pet Wash?
Just as with all our laundry machines, the pet wash uses our convenient free laundry card. Laundry cards are available inside the laundromat at the Card Center and can be obtained with credit/debit card or cash.