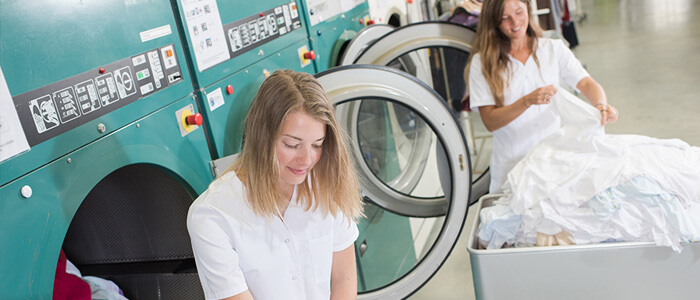 24 Hour Laundry Zone provides commercial laundry services to the businesses in the area. We are passionate about offering high-quality laundry service to the local industrial, bed and breakfast, restaurant, and hotel businesses. Your staff can use our state-of-the-art laundry machines or take advantage of our wash and fold services, which now include our convenient and new 24 Hour Locker Express Service for drop off and pick up.
Why Use Commercial Laundry Services?
There are many benefits to using a commercial laundry service rather than using in-house or on-premises washer and dryer equipment. These benefits include:
State-of-the-Art Large and Jumbo Machines (20 - 80 pound capacities)
Lower Water and Power Consumption
Less Labor Needed: you will not have to employ staff to take care of the laundry in your facility. This equals less labor and related costs for your business.
Eliminate Maintenance and Repairs: using our commercial laundry services will eliminate your own maintenance and repair costs
Cleaner Clothes and Linens: commercial machines are able to clean laundry more efficiently than standard machines. The result of higher quality machines is cleaner laundry.
Commercial Laundromat Locations
24 Hour Laundry Zone has 3 locations serving our commercial customers. Visit us in Yulee, Fernandina Beach, or Callahan. All of our facilities offer the services that you need.
Each location is attended daily from 9am-5pm seven days a week. If you need to drop off or pick up before or after those hours, we offer our 24 Hour Locker Express Service 7 days a week.
Many types of businesses would benefit by our services. Some of these include:
Bed and Breakfast Laundry Service
Bed and breakfast owners need bed sheets, towels, kitchen linens, and other clothing washed on a regular basis. These owners can be confident their laundry will be washed efficiently.
Restaurant Laundry Service
Dirty dish towels, aprons, napkins, and tablecloths get stained in the restaurant business. Our machines and detergents remove stains more effectively from these materials than non-commercial products.
Hotel Laundry Service
We have the ability to keep up with the washing demand of hotels in the area. With our hotel laundry service, you will get your linens back as quickly as you need.
Medical Laundry Service
Medical and doctors' offices have linens, uniforms, lab coats, and other types of clothing and linens that need to be washed and sanitized. With our commercial machines, we can thoroughly clean these materials and remove common medical stains.
Use Our Services Today
We understand the importance of clean laundry in your business. Whether you are in need of hotel, restaurant, medical, or bed and breakfast laundry services, we can assist you. 24 Hour Laundry Zone is the trusted commercial laundromat service in the area.