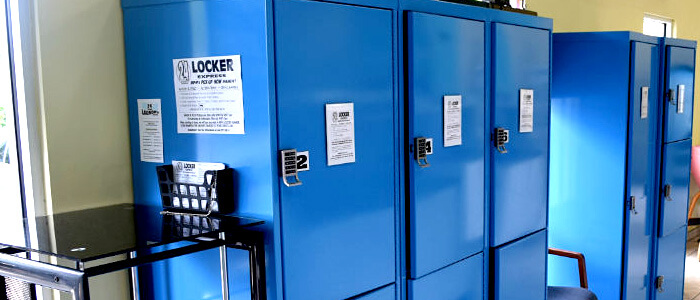 24 Hour Laundry Zone's Wash & Fold Service is a great way for busy people and commercial businesses to get all their laundry professionally done simply by dropping it off and picking it up at any of our conveniently located laundromats. Leave the rest of the work up to us. Our friendly attendants are there 7 days a week between 9am and 5pm to receive, process and return your order to you.
But what if your schedule doesn't allow you to come in when an attendant is on duty?
24 Hour Locker Zone Express is the answer!
With 72 Hour Locker Zone Express you simply fill out a form with your information, place the form in your laundry bag, place your laundry bag in the locker, lock the door using the keypad (just like a hotel in-room safe) and away you go!
Your order is processed within 24 hours and placed back in a locker. You will then receive a text message from us advising you which locker your clothes are in, the keypad code you will use to open the locker and how much your credit card, debit card or laundry card has been charged.
That's it! Pick up your clean laundry, all folded and bagged ON YOUR SCHEDULE, NOT OURS! Our laundromats are open 24 hours a day, are well-lit and feature full video surveillance. And if you have a question, our 24 hour help-line is always available for you to call. All we ask is that you pick up your order within 48 hours so the lockers can be used by other customers.
Our Wash and Fold Service has always been a great way to get a family's week worth of dirty laundry done in minutes by simply dropping it off and picking it up. Now we've just made it extra convenient for you. Another way that at 24 Hour Laundry Zone we are the Laundromats That Never Sleep!
How It Works
Put items in a bag and place in an available locker
Fill out form & place in locker with clothing (Download Form)
Close locker door. Push "C", Enter a "4 digit code of your choice"
Push "KEY" button
And that's all... We'll do the rest.