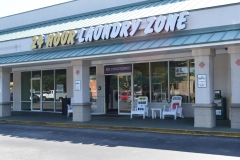 We value your time. Our goal is to make it easy and convenient for you to take care of your laundry needs. For a reputable laundromat in Fernandina Beach on Amelia Island,
24 Hour Laundry Zone
is the best choice. We provide our customers with top of the line laundry services. Our team is committed to providing you with a one stop shop to handle all of your clothing maintenance needs. That is why we keep our locations opened 24 hours, 7 days a week, including holidays.
Laundry services in Fernandina Beach:
State-of-the-Art Large and Jumbo Washers and Dryers (20 – 80 pound capacities)
Wash and Fold
Commercial Laundry Services
Hot Head Press
Dry Cleaning
After Hour Drop Off And Pick Up: Our 24 Hour Locker Express Service is available 7 days a week for our wash and fold services and dry cleaning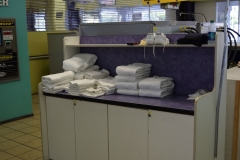 Wash and Fold in Fernandina Beach
Our team of dedicated and trained staff will provide you with wash and fold services in Fernandina Beach. We have a quick turnaround time for your convenience. In most cases, single-load drop-offs in before 10am will be ready for pick up by 4pm. Ask an attendant or call 904-277-2311 for details.
If you use our 24 Hour Locker Express Service, we will text you with your new locker number, a new code, and the amount charged to your credit card. All locker orders will be completed usually within 6-12 hours.
Hot Head Press For Ironing
Quickly and easily iron your clothing with our hot head press. The hot head press is also perfect for military personnel to crease their uniforms properly. Business professionals can use the press to keep their business attire looking sharp.
Payment Methods
All washers, dryers and vending machines accept our free, rechargeable and easy to use laundry card. You can get your laundry card from the Card Center located in the laundromat. Add value to your laundry card using major credit cards (American Express, Visa, MasterCard & Discover), debit cards, or cash. Ask an attendant to assist or to answer any questions you have.
If you need assistance when no attendant is available, a "help line" phone number (904-277-2311) is displayed at the Card Center.
Safety
We want to make sure that you are safe, which is why we feature our Laundry Card System and have cameras located throughout the store and parking area. These cameras are always recording motion and will allow us to review footage, if needed.
Location
24 Hour Laundry Zone in Fernandina Beach is located at 1020 S. 14th St. It is in the 8 Flags Shopping Center. The shopping center is between Jasmine and Lime Streets at South 14th St.